Happy Saturday, friends! How are things going in your neck of woods? Things are going well here. It's much cooler than it has been and my husband and I got some much needed work done early this
morning, after dropping our son at work at 6:30 (it should be against the law to be at work that early on a Saturday 😉😂). But, on the plus side, we were productive, LOL!
Do you all participate in reading challenges? Why or why not?! I want to hear all the answers. With this book blog baby only being about 6 months old I haven't really participated in many challenges, but I want to in 2022. I want to be very careful not to over obligate myself, as I did with ARC the past 6 months or so, mainly because I got behind (you know, life!) and couldn't catch back up. And, I am very much a "anything worth doing is worth doing right" type person, so I felt all this pressure to catch up (I am almost there!). I have already decided that next year I am going to cut waaaaaaaay back on ARC (it sounds good, right?) so I have more freedom to read the books I already own that are on my shelves and on my Kindle. Plus, just catch up on some authors that I have found and want to read their back lists 😀
So, that brings me to the first challenge that I have decided to be a part of for 2022. I will be participating in Emily The Book Nerd's challenge (I am excited and looking forward to it!):


RULES/HOW TO PARTICIPATE:
- You cannot double up on books. For example, one book per category.
- If you are a blogger, bookstagrammer, etc, and posting your reviews and books read try to link back to my blog and this challenge. That way, more people can join in on the fun/discussions.
- Use the hashtag #NerdyBookwormChallengeXO when posting on social media and sharing books you read for challenges etc.
- You can join in on our Facebook group here for discussions.
- You can read and do the prompts/challenges in any order you want.
- Set fun but attainable reading goals. If you do not complete all prompts that is completely fine! No stress zone here.
- Join at any time throughout 2022 but all books need to be read January 1, 2022 - the end of 2022. Pretty basic.
- It is okay to DNF any book that you start for that challenge. Even better, share why you did not finish it.
- All audiobooks count regardless of the challenge.
- Feel free to use all graphics for your posts on social media.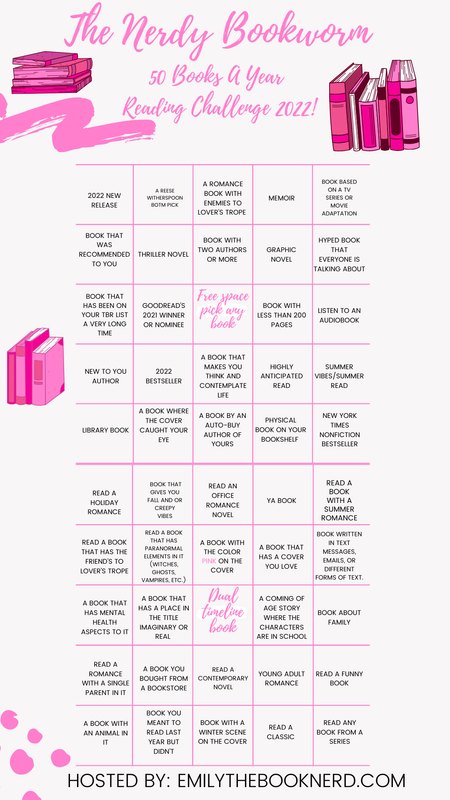 So, again, I ask, do you participate in reading challenges? Which ones will you be doing in 2022? To check out Emily's challenge (and to sign-up!) click the icon below!